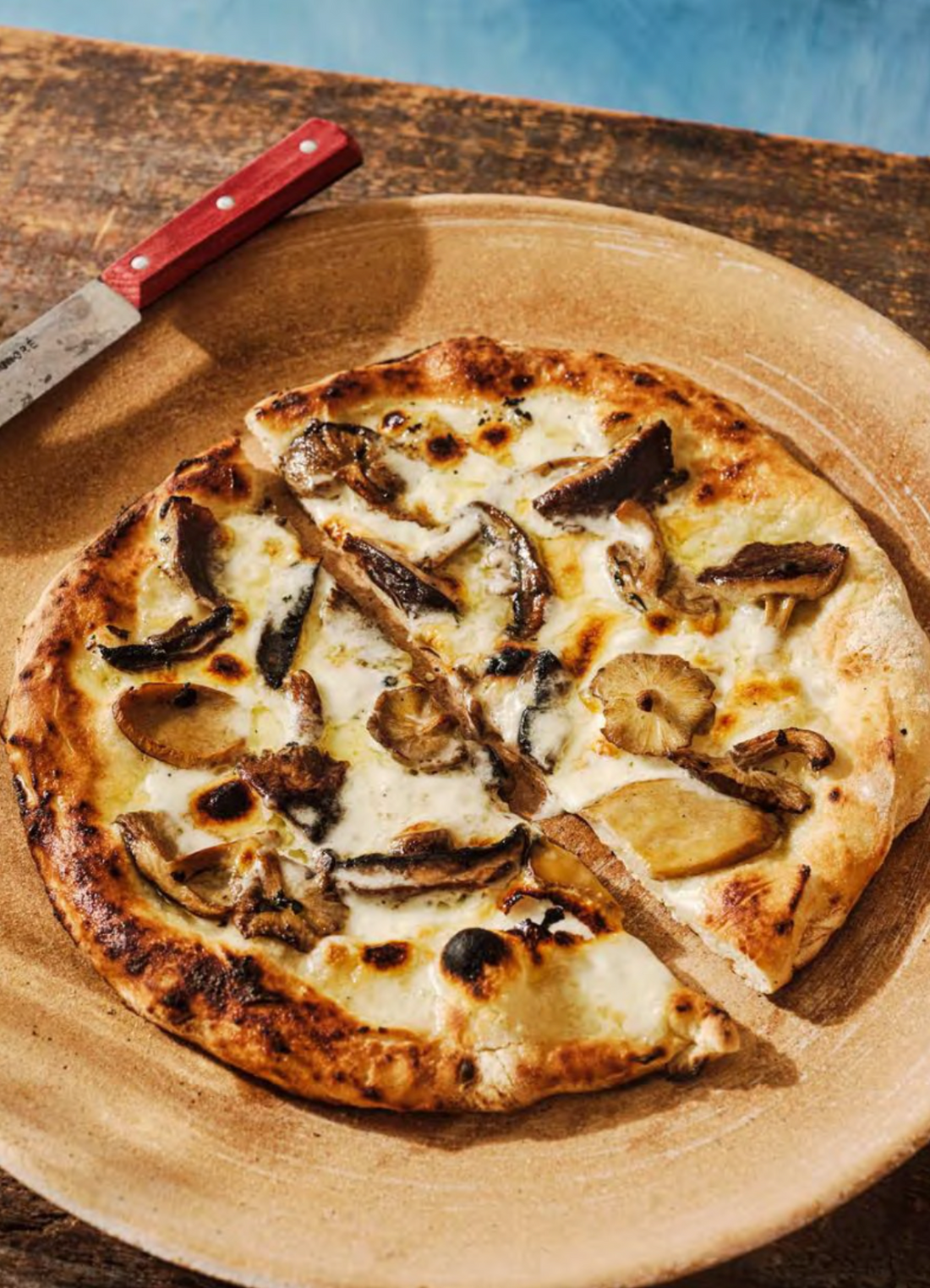 White Pizza with Taleggio, Wild Mushrooms & Truffle Oil
Pizza bianca con Taleggio, funghi di bosco e olio al tartufo
I love a white pizza without any tomatoes and I can't understand why people are sometimes so against it and won't give it a try.
The flavour of the Taleggio cheese with wild mushrooms and truffle is a match made in heaven, and lately in all my restaurants this is becoming a very popular choice with the younger generation. My boys Luciano and Rocco can't get enough of this pizza and they literally forced me to write this recipe for you guys… I really hope you will give it a go.
I have a tip for you: to properly slice the Taleggio – or any soft cheese such as Brie – make sure it's really cold and not at room temperature.
Ingredients


FOR THE DOUGH
- 1.5kg '00' flour, plus more to dust
- 3g fresh yeast
- fine sea salt
FOR THE TOPPINGS
- 5 tbsp olive oil
- tsp thyme leaves
- 500g mixed wild mushrooms, sliced
- 400g Taleggio or Brie - cheese, weighed after the rind has been trimmed off, thinly sliced
- 5 tbsp truffle-infused olive oil
- salt and freshly ground black pepper

Method
MAKE THE DOUGH
- follow my Neapolitan Pizza Dough recipe, or the quick steps at the bottom of this page.
PREPARE TOPPINGS
Pour the olive oil and thyme leaves into a large frying pan and place over a high heat. Add the mushrooms and sprinkle over 1 tsp salt and ½ tsp pepper. Fry for 8 minutes, stirring occasionally with a wooden spoon. Set aside to cool.
Equally and quickly scatter one-fifth each of the Taleggio and the mushroom mixture over the pizza base.
BAKE YOUR PIZZA
Follow my 5 Top Tips below for pizza baking success.
TO SERVE

Drizzle 1 tbsp truffle oil over each pizza and serve immediately with a glass of full-bodied Italian red wine, while you bake the rest of the pizzas.
for your AT HOME PIZZA NIGHTS