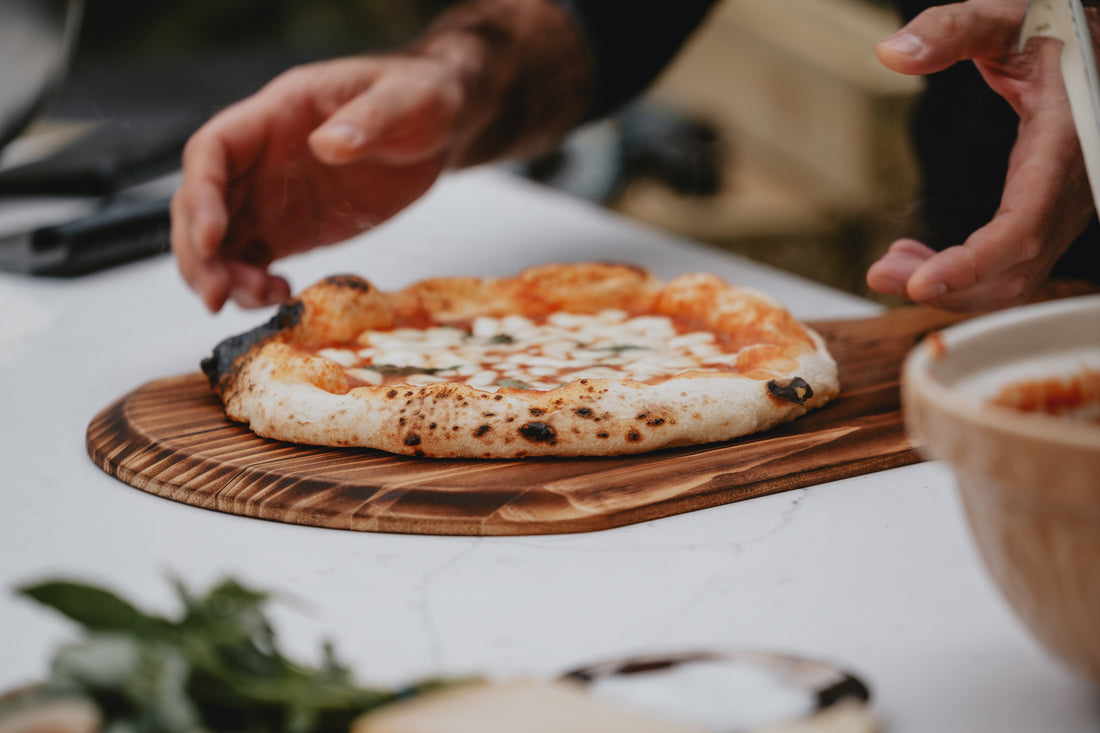 Pizza Napoletana
I know a lot of you will look at this recipe, think it's too much hassle and just want to go and buy some pizzas instead, but it is so much fun to make them from scratch and they taste so much better too. I often make pizzas when we have another family coming over, as, once the dough is ready, they take just minutes to prepare and everyone can add their own toppings.
Traditionally, Neapolitan pizza is cooked in a wood-fired pizza oven, so this is an ideal recipe to make with one of my new Pizza Ovens
I have used much less fresh yeast than you might find in other recipes, but this is not a typo! In Naples, we give the dough longer to rise, so it doesn't need as much yeast. Also, using less yeast gives a far lighter and easier-to-digest pizza base. 
SERVES 10 

Ingredients


FOR THE DOUGH
- 1.5kg '00' flour, plus more to dust
- 3g fresh yeast
- fine sea salt
FOR THE TOPPINGS
- 6 x 400g cans of chopped tomatoes
- 30 basil leaves
- 10 tbsp extra virgin olive oil, plus more to drizzle on top
- 10 mozzarella balls (about 125g each), drained and cut into 1cm cubes

Method
MAKE THE DOUGH
- follow my Neapolitan Pizza Dough recipe
PREPARE SAUCE
Place the tomatoes, basil, extra virgin olive oil and 4 tsp salt into a large bowl, mix all together and set aside.
Fire up your Gino Pizza Oven, and preheat to:
- 450°C if measured with a digital thermometer pointed at the back of the stone
OR
- 300°C if reading from the side mounted temperature gauge
STRETCH & TOP YOUR PIZZA
Gently pick up a dough ball and place on a lightly floured surface. Use your hands to push the dough ball out from the centre, creating a disc about 28cm in diameter. At this stage, stretch the dough onto a pizza peel so it is ready to slide into the oven.
Use a large kitchen spoon to spread 1½ tbsp of the tomato mixture on top of the pizza base. The best way to do this is by pouring the tomato mixture into the middle of the pizza base and spreading it from the centre going outwards, using the back of a large spoon. Leave a 1cm border clean.
Scatter a chopped mozzarella ball over the tomato mixture and evenly drizzle over 2 tbsp extra virgin olive oil.
BAKING YOUR PIZZA
For beginners, my top tip is to turn the oven completely off just before you launch your pizza. This will give you more time for the base of the dough to crisp up, making the pizza easier to turn, and prevent burning. Once you see the back edge bubbling and browning, use your peel to turn the pizza 90°.
The pizza baking process will take around 60-90 seconds... make sure you keep your eyes on the pizza at all times!
Remove your pizza when the whole crust has browned, serve, and enjoy!
for your AT HOME PIZZA NIGHTS