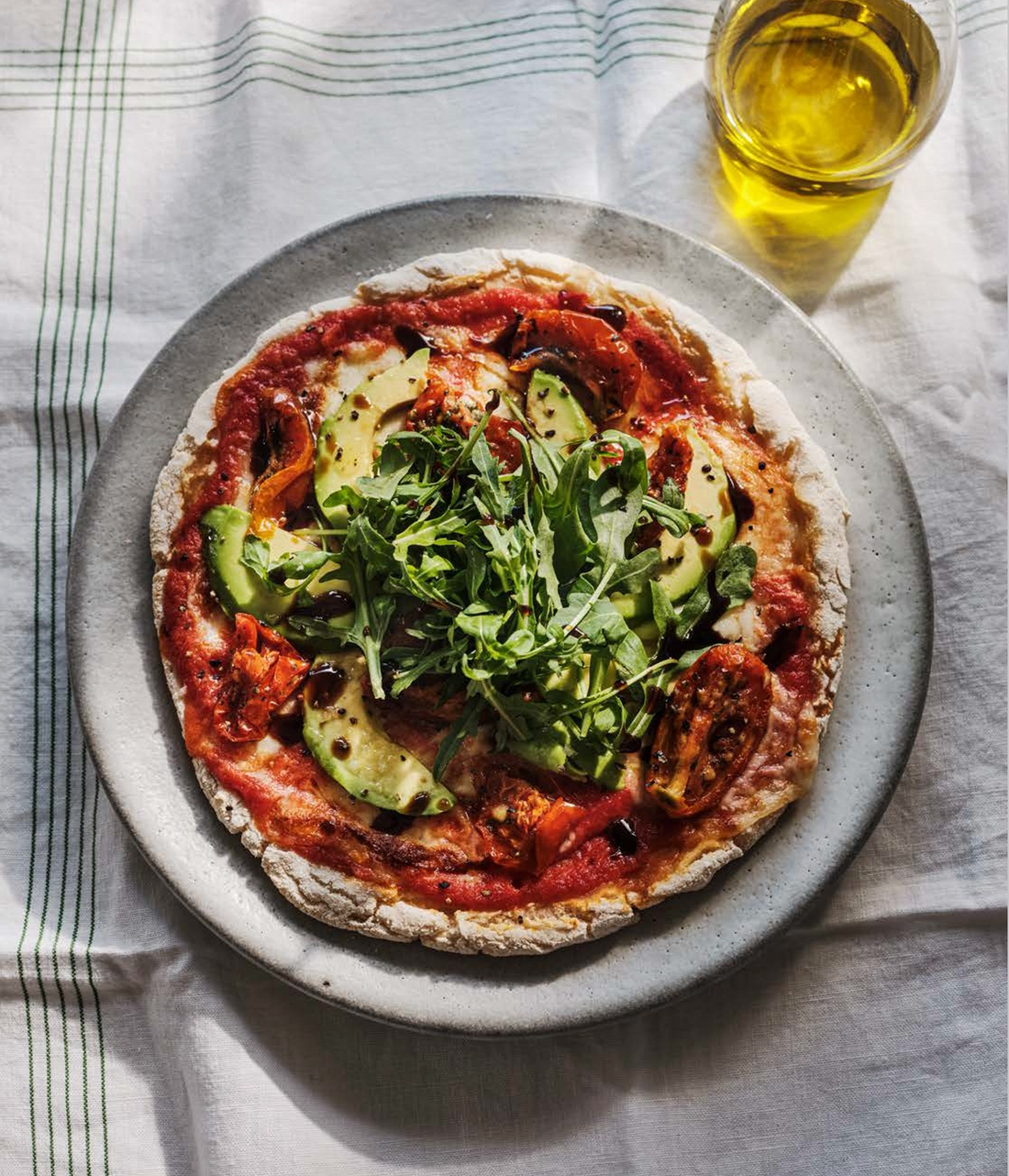 Gluten Free Pizza with Avocado, Semi Dried Tomatoes, Rocket Leaves & Balsamic Glaze
Pizza senza glutine con avocado, pomodori semi secchi, rucola e glassa di aceto balsamico
So many people nowadays seem to have intolerances to gluten, including my niece Ella, while many others choose to eat gluten-free products, so it's only fair that a gluten-free pizza should feature on this website.
I have chosen to top it with cold ingredients, which gives the pizza a different dimension to what we are used to or expecting, and I just love the combinations.
We often have an avocado, mozzarella, tomato and balsamic glaze salad as an antipasti with crusty bread, so this recipe was just an extension of our usual flavours and we all love it.
SERVES 2 

Ingredients


FOR THE DOUGH
- 2 tbsp extra virgin olive oil, plus more for the baking sheets and dough
- 200g gluten-free bread flour, plus more to dust
- 7g sachet of fast-action dried yeast
- 140ml warm water
- salt
FOR THE TOPPING
- 200g tomato passata
- 6 tbsp extra virgin olive oil
- 2 x 125g mozzarella balls, drained and cut into small strips
- 1 avocado, halved, pitted, peeled and sliced
- 10 wedges of semi-dried tomatoes in oil
- 40g rocket
- balsamic glaze
- freshly ground black pepper

Method

MAKE THE DOUGH
To make the dough, place the gluten-free flour into a large bowl with the yeast and ½ tsp salt. Make a well in the centre and add the 2 tbsp oil. Slowly pour in the measured warm water, mixing with the handle of a wooden spoon until you create a sticky dough. Turn out the dough on to a well-floured work surface and knead for 10 minutes, until smooth.

Halve the dough and shape into 2 equal balls.
Cover with clingfilm and leave to rest at room temperature for 1 hour.
PREHEAT OVEN FOR 15 MINUTES
Fire up your Gino Pizza Oven, and preheat to:

- 450°C if measured with a digital thermometer pointed at the back of the stone
OR
- 300°C if reading from the side mounted temperature gauge
STRETCH & TOP YOUR PIZZA
Gently pick up a dough ball and place it on a lightly floured surface. Use your fingertips to gently push the dough ball out from the centre, creating a 'crown' or border around the rim. The pizza should be about 28cm in diameter.

Equally divide the passata on top of the pizza bases. Using the back of a tablespoon, spread the passata over the pizza bases, from the centre outwards, leaving about 1cm clear for the rim. Drizzle 1 tbsp extra virgin olive oil over each pizza.

Scatter over the mozzarella.
BAKING YOUR PIZZA

For beginners, my top tip is to turn the oven completely off just before you launch your pizza. This will give you more time for the base of the dough to crisp up, making the pizza easier to turn, and prevent burning. Once you see the back edge bubbling and browning, use your peel to turn the pizza 90°.

The pizza baking process will take around 60-90 seconds... make sure you keep your eyes on the pizza at all times!

Remove your pizza when the whole crust has browned, serve, and enjoy!
If you're cooking another pizza, turn the heat back up to maximum to maintain stone temperature and repeat the process.

Top each evenly with avocado, semi-dried tomatoes and rocket and sprinkle over
½ tsp salt and some pepper. Drizzle 2 tbsp extra virgin olive oil over the pizzas and some (or a lot of, if you are my son Rocco) balsamic glaze. Serve immediately.


for your AT HOME PIZZA NIGHTS